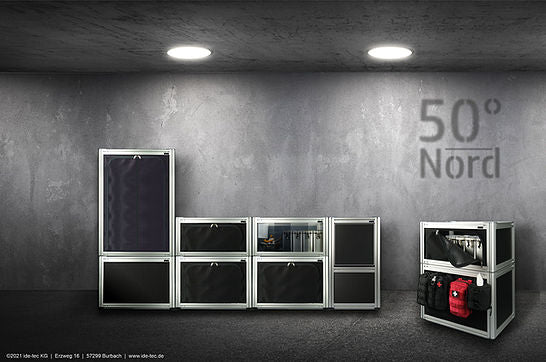 Module 50 camper expansion
The expansion module system for campervans, motorhomes and other adventure, travel and leisure vehicles.
Anyone who has ever bought a travel van or mini camper or even expanded it themselves knows what it means to find optimal equipment. Does the kitchen belong in the rear or at the front, inside or outside? Do you shower in the rear tent or in the vehicle? Do you need boxes, cupboards or bags - ...?
How cool would it be if you could easily modify, add to or even completely redesign the equipment?

The equipment often initially consists of a lot of compromise and improvisation. After every travel experience you get a little closer to your own idea of ​​optimal equipment.

A storage system that can be changed, modified, expanded or taken into the next vehicle at any time.

That would be the solution.

A storage system that you can change, expand, redesign or take with you to the next vehicle at any time. That would be the solution!

Module 50 offers exactly this solution.

It is based on the basic idea of ​​a Euronorm container. This makes it flexible in use. All boxes are stackable, linkable and can also be combined with standard Euroboxes from almost all manufacturers.

Special sizes and custom-made products are no problem.

Storage boxes, washing areas, kitchen modules or even rear boxes can be manufactured individually and precisely.

Complex cabinet systems and complete extensions for motorhomes, vans and campers can be realized, as can simple storage boxes. T-slot rails and special connectors as well as zipper inserts, sliding doors and more ensure individual expansion and design options.
FAQ and useful tips
Is this a default profile?

No - this is a profile specially developed by us that we have manufactured with our own tools in an extrusion plant.

However, it can be combined with various standard profiles.
If you like, you can connect your own constructions, e.g. for a bed frame or a shelf, directly to the Modul 50 profile.
Can I also use my own interfaces?

Yes - you can exchange all side walls at any time or design them as you wish.
You can either stick on existing wall materials or use your own materials.
Can I also buy individual profiles?

Yes of course. The actual purpose of the system is to offer builders a platform on which complex build-outs can be implemented and supplemented with their own components.
You will soon find a configurator here where you can individually put together profiles, connectors and accessories for your expansion.